Nenjam Marappathillai
UA
05 Mar, 2021
2 hrs 30 mins
Listen to this Album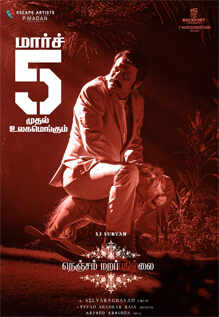 Synopsis
Nenjam Marappathillai is a Tamil movie released on 07 July, 2017. The movie is directed by Selva Raghavan and featured S. J. Suryah, Regina Cassandra and Nandita Swetha as lead characters.
Read More
Cast & Crew
Nenjam Marappathillai Movie Review : Nenjam Marappathillai is a minor return to form for Selvaraghavan
Critic's Rating:

3.0

/5
Synopsis: A god-fearing young woman who takes up the job of a caretaker in a rich household tries to take revenge on her lustful employer.

Review: By now, Tamil cinema has tired itself of ghost stories, but Nenjam Marappathillai, made when the trend for all sorts of horror movies was at its peak (circa 2015-16), gives us a horror film that is unmistakably one of its kind. Just like how Mysskin gave us a unique horror film with Pissasu, this is horror movie, done Selvaraghavan style. The director uses the usual formula of horror films - an innocent, who is killed by evil, returning as a spirit seeking revenge - but gives his stamp to the ways in which this arc is achieved.

Mariyam (an effective Regina Cassandra), a god-fearing young woman from an orphanage, takes up the job of a nanny to the child of rich couple Ramsay (SJ Suryah) and Shwetha (Nandita Swetha). It is lust at first sight for Ramsay, who has come up in life solely by hook and crook. He tries to take advantage of Mariyam, but she spurns his advances. The scheming Ramsay then plots to get Shwetha out of the way so that he can get what he wants. And he does succeed. But the hapless Mariyam returns from the grave to exact revenge.

Nenjam Marappathillai is a minor return to form for Selvaraghavan, who smartly uses his loud filmmaking style to give us a film that is over the top in a good way. Right from the performances to the striking visuals (by Arvind Krishna) and in-your-face dialogues that capture the idiosyncrasies of the director, everything dialled up here, resulting in a film that is interesting for the most parts.

The film also feels like an affectionate throwback to films and filmmaking style of yesteryears. For starters, there is the title. Then, we have the showy acting of SJ Suryah, which harks back to the melodramatic performances of Sivaji Ganesan in the 60s and 70s. Even his character's name - Ramsay - feels like a nod to the Ramsay brothers, who are identified with loud and flashy horror movies. Yuvan Shankar Raja's trippy music recalls the synth-pop feel of the music of the 80s. We even get a climactic showdown that seems to be an attempt to recreate the balletic stunts of the martial arts movies (though, the execution here is hardly balletic).

Of course, it is problematic as well. Like many of this director's films, it makes us cheer for the actions of a man who is deplorable. And despite all the quirkiness (or perhaps because that), the film feels emotionally cold. We never really care for Mariyam as much as we should. We never despise Ramsay as much as we should. We never get to know Shwetha as much as we should. This is also why the climax leaves us indifferent when it should have made us feel satisfied.
Next Movie Review